An aquarium heater is an important part of virtually any aquarium setup.
It's essential for keeping aquarium water at the optimal temperature to keep your fish happy, healthy, and comfortable.
Without an aquarium heater to keep the water at the right temperature, a fish can easily become ill or even die.
The wrong heater, however, can create serious problems for your fish. A malfunctioning heater can cause the water in the fish's tank to get too hot and you can wind up inadvertently boiling your pet.
Many heaters also give out in a few months, or even explode and leave heater pieces all over your tank.
To help you make this important decision about heating your fish tank, we asked our veterinary advisor, Dr. Danielle Morosco, to review each and every major tank heater and share her findings with you here.
Dr. Morosco's top pick is the AquaTop Titanium Heater with Controller. This particular aquarium heater stands out because of its variety of available sizes, durable construction, remote sensor, and more.
While that was Dr. Morosco's top pick, she'll also share her top tips for evaluating an aquarium heater, who may not want to buy a heater for their fish tank, and her personally selected picks for a variety of specific use-cases.
The 5 Best Aquarium Heaters
Aquarium Heaters Compared
Here are the top picks from our veterinarian. Compare the ratings and features of different models.
*Ratings are on a scale of 1 to 5 and based on reviews, feedback, and opinions of actual customers
Who Should Buy an Aquarium Heater
Keepers of tropical fish – If you have tropical fish that need warmer water, an aquarium heater is the easiest way to keep the water warm enough for your stock.
Fish keepers that live in colder areas – If you live somewhere where the weather stays chilly, or even just gets cold for part of the year, an aquarium heater is a good idea, even if you only keep fish that are native to temperate areas. An aquarium heater will keep your fish in water that's a consistent, comfortable temperature.
Who Should Not Buy an Aquarium Heater
People who keep their homes at the same temperature the water needs to be – If left without a heater, the water in your fish tank will eventually reach the same temperature as the air in your home. Still, it's a good idea to have a spare tank heater on hand for emergencies, even if you don't use it all the time. If you keep your house colder while you're at work or on vacation, you'll need an aquarium heater to keep the water at the right temperature.
Keepers of cold water fish – If you keep fish that need cold water, then obviously an aquarium heater is the opposite of what you need.
Buying Guide: Research Tips From a Veterinarian
As a veterinarian, I've talked to many clients about aquarium heaters. Here are a few tips based on that experience for choosing an aquarium heater. Be sure to look over all the aquarium heater's features to make sure you know as much about it as possible before you buy. Talk with friends to find out what types of heaters they use for their tank along with checking trustworthy reviews.
Carefully select the aquarium heater type – Make sure the aquarium heater is suitable for the type of tank you have, as some tanks are better suited for freshwater, rather than saltwater.
Choose the right size – Heaters come in various sizes so make sure it is suitable for your size tank.
Be sure that it comes with a thermometer – Make sure your heater comes with a thermometer since it's not always included.
Check the temperature options – Different types of fish must have their aquarium at a certain temperature. Make sure your heater can accommodate the temperature needed to support your fish properly.
Check safety recommendations on the product – Most heaters need to be completely submerged in water. Before cleaning the tank, unplug the heater and let it cool off to preserve the heating mechanism.
How Much Do They Cost?
Between $20-$75
Aquarium heaters can come at a wide range of prices but usually fall between about $20 and $75. One of the biggest factors affecting price is the quality of the construction. While it's certainly not always the case, you can generally expect a more expensive aquarium heater to be better made than a cheap one. However, there are other factors that affect the price as well. For example, a higher wattage will generally be more expensive. Higher wattage aquarium heaters will heat a larger aquarium, so choosing one that's the right size for your aquarium helps you save money while also making sure the heater will be effective.
The type of aquarium heater also matters. Submersible and immersible heaters tend to be more affordable, while a substrate heater is more expensive. Submersible and immersible heaters are just as effective and easier to install than substrate heaters, so opting for a submersible or immersible heater is a great way to save money.
Our Methodology: Why Trust Pet News Daily
As a veterinarian, I've often spoken with pet owners about proper fish tank setups, including aquarium heaters. I chose the products here based on my experience as a veterinarian, also taking into account the specific features of each product. I looked at the construction quality, available wattage options, temperature adjustability, temperature display, safety features, different aquarium heater types, and more to narrow down all the options to the top five aquarium heaters available. – Dr. Danielle Morosco, DVM
The Best Aquarium Heater Reviews
Our top pick is the AquaTop Titanium Heater with Controller. This premium aquarium heater is suitable for both fresh and saltwater tanks and comes in five different sizes. The largest is 500 watts and is suitable for aquariums up to 150 gallons, while the smallest is 100 watts and suitable for aquariums up to 35 gallons.
The heater itself is made of titanium for durability. The included controller makes it easy to set the temperature and the heater allows for temperature settings between 68 and 92 degrees Fahrenheit. There's a remote temperature sensor for more accurate readings.
pros
For freshwater and saltwater tanks
Comes in various sizes for different gallons
Controller included
Remote sensor for accurate temperature readings
Cons
Setting can be a bit off from the actual temperature
If you're trying to save money on your aquarium heater, the Hitop Submersible Adjustable Aquarium Heater is the way to go. This one comes in three sizes: 50 watts for 5-15 gallon tanks, 100 watts for 10-30 gallon tanks, and 300 watts for 35-70 gallon tanks. Each size shares the same excellent features.
They have 33% thicker glass than the typical aquarium thermometer, preventing explosions and making them safer for both humans and pets. These thermometers also have a shorter overall length, so they take up less space in the aquarium and leave more for the fish. Suction cups are included (plus a spare) to attach the heater to the side of the tank, keeping it in place and out of the way. It also comes with a stick-on thermometer that provides an external check on the thermometer's heat setting. Lastly, the Hitop Submersible Adjustable Aquarium Heater can be set for temperatures between 68 and 93 degrees Fahrenheit.
pros
33% thicker glass
3 different sizes for various tanks
Stick-on thermometer is included along with extra suction cups
Shorter, allowing more space in tank for fish
Cons
Temperature setting may be a little off from the actual temperature
Temperature control may be a little difficult to manipulate
If you need to heat just a small aquarium, the PULACO Aquarium Heater Thermometer Gallon is perfect. It's designed for aquariums from 1 to 6 gallons. It's also very easy to set up, so it's great for beginners. Simply plug the aquarium heater in and it will automatically begin to heat up. A red indicator light shows that the thermometer is currently raising the temperature in the tank, while a green light indicates that the thermometer is maintaining the temperature.  The small size of this aquarium heater means that it doesn't take up much space and it only needs one suction cup to hold in place.
However, the temperature isn't adjustable. It holds at 78 degrees, plus or minus 3 degrees. Fortunately, that's just right for most tropical fish. It comes with a thermometer sticker so you can monitor the temperature in your tank, and also comes with a 12-month warranty and 24-hour professional service, so you're covered if you experience an issue.
pros
Perfect for 1-6 Gallon tanks
Easy to set up. Just plug it in and it will automatically heat up
12-month warranty included with purchase
Cons
Temperature isn't adjustable
FREESEA Aquarium Heater Display 50watt is a great option for tanks up to 10 gallons. This submersible heater features a large LED thermometer display and simple touch-button controls, which also makes the heater easy to set and adjust. Simply use the buttons and display to set the temperature. Then, the display will continually display the temperature of the water in real-time. There's no need for an external thermometer!  You can set the temperature between 59 and 94 degrees Fahrenheit, which is a wider range than most tank heaters on the market.
This aquarium heater comes in a 100-watt version that's suitable for tanks from 10 to 20 gallons. The FREESEA Aquarium Heater Display 50watt comes with a 12-month warranty and 24-hour professional service. Its small size takes up minimal room in a 10-gallon aquarium and the heater itself has suction cups on the back to affix it to the side of your aquarium.
pros
Small size perfect for smaller tanks
Digital temperature readings
Automatic temperature function
Cons
Cable is only 3.5 feet
Some reviewers reported betta fish getting caught in the suction cups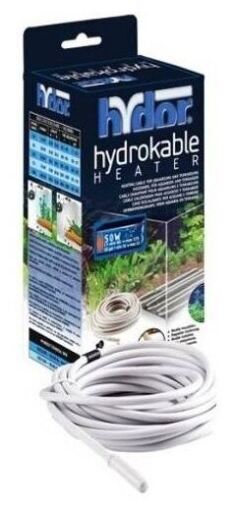 Hydor Hydrocable Heating Cable 25 W
The Hydor Hydrocable Heating Cable 25 W is the best substrate heater available.
Finally, the Hydor Hydrocable Heating Cable 25 W is our top pick for substrate heaters. The substrate style and wet-or-dry design make it well-suited for not just fish tanks but also aquariums and terrariums for reptiles. It's also super easy to install: the heating cable comes with suction cups, which can be used to attach the cable to the bottom of the aquarium exactly where you want it before placing the substrate on top.
The cable features double-walled silicone insulation, so it's perfectly safe for animals. However, there's no thermometer display, so you'll need a separate thermometer to help you monitor the real temperature in the tank. The 25-watt version is suitable for 10 to 17-gallon tanks, but it also comes in a 75-watt version that works for 40 to 65-gallon aquariums.
pros
No space is needed for the heater in the tank
Safety guaranteed
Rubber coating so no risk of shortage in the water
Cons
Pricey
No thermometer display
Frequently Asked Questions
Where is the best place to put a heater in an aquarium?
Placing your submersible heater near your filter outflow or circulation pump ensures that the heated water circulates throughout the aquarium, heating it evenly. Don't place the heater near the filter input, as this can kill the good bacteria within the filter. Try not to place decorations near your heater so that the water can more effectively circulate.
Can aquarium heaters be fully submerged?
All aquarium heaters need to be at least partially submerged to function properly, but not all are fully submersible. However, all of the aquarium heaters we've recommended here can be fully submerged.
How often should I replace an aquarium heater?
There is no particular schedule you should rely on to replace your aquarium heater. As long as the aquarium heater continues to reliably function, you can keep using it. Be sure to regularly check the thermometer in your aquarium so you can make sure that your aquarium heater is still working properly. It's also a good idea to have a spare heater on hand just in case the one you're using fails, especially if your current aquarium heater is older.
Are two aquarium heaters better than one?
There are both advantages and disadvantages to using two aquarium heaters. Two heaters mean that neither heater has to work as hard to keep the water temperature in the appropriate range. It allows the tank to heat more evenly. And, if one heater fails to heat, the other can pick up the slack. On the other hand, if one heater fails to stop heating, a second heater won't help. However, two aquarium heaters are most helpful in large tanks. In a small one, you're generally better off saving money and sticking with a single heater.